Vietnamese Foreign Minister Bui Thanh Son has underlined four groups of solutions to boost post-pandemic economic recovery and development in the Mekong sub-region, including the prompt implementation of COVID-19 vaccination, stronger cooperation in high-quality vaccine technology transfer, production and distribution and the enhancement of public health system to respond to medical challenges.

Speaking at the second virtual Mekong-US Partnership Ministerial Meeting (MUSP MM) on August 3, Minister Son affirmed that Vietnam attaches great importance to fostering cooperation with partners for the sustainable development of the Mekong Sub-region.

He welcomed support by the MUSP to Mekong countries in coping with the COVID-19 pandemic as well as promoting sustainable development and building the ASEAN Community.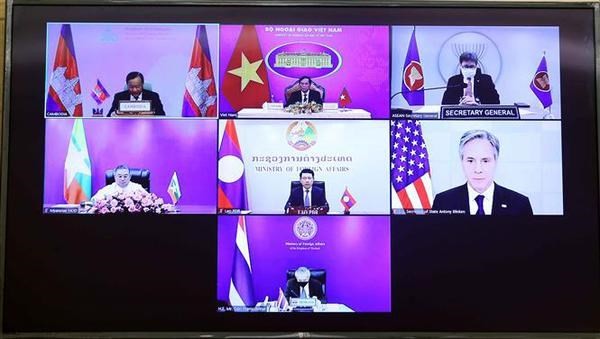 He underlined that COVID-19 and climate change are urgent matters posing great challenges to the sustainable and inclusive growth of the Mekong sub-region, requiring high determination and efforts of Mekong countries, ASEAN and partners.

Besides, it is necessary to enhance the response and adaption capacity of the Mekong River basin region to climate change impacts, and foster collaboration in management and sustainable use of transboundary water resources, he said.
Son stressed the need to expand cooperation on infrastructure development, digital economy, clean and renewable energy, while encouraging three- and four-party cooperation models.

The Vietnamese FM also proposed a Mekong-US Senior Leadership Programme to strengthen dialogue and policy consultation serving sustainable development in the Mekong region.

Vietnam's initiatives and proposals were welcomed by all participants and added into the meeting's documents.

Co-chaired by Cambodian Foreign Minister Prak Sokhonn with US Secretary of State Antony Blinken, the second meeting saw foreign ministers from Laos, Myanmar, Thailand and Vietnam, and the ASEAN Secretary-General.

At the meeting, the ministers highly valued the US support to Mekong countries in the COVID-19 fight, and recognised MUSP achievements in cooperation areas.

On orientations for the next period, they agreed to give priority to the effective settlement of pandemic, ensuring timely, safe and effective vaccine access. At the same time, they concurred that the MUSP should make positive contributions to the reinforcement of an environment of peace, stability and prosperity in the region, while supporting the implementation of sustainable development goals (SDGs), the ASEAN Community Vision 2025, the ASEAN Comprehensive Recovery Framework, narrowing development gap, and strengthening connections with existing Mekong cooperation frameworks.

They adopted an Action Plan for the 2021-2023 period, with priority given to programmes and projects in the fields of economic connectivity, sustainable management of water resources and natural resources, environmental protection, non-traditional security matters, and human resources development./.