The consequence of bombs, mines and toxic chemicals left by war in Vietnam is an urgent issue that has been threatening people's lives and causing a serious effect on the country's sustainable development goals, a senior official has said.

Deputy Minister of National Defence Senior Lieutenant General Hoang Xuan Chien made the remarks at a webinar on "Overcoming the consequences of war, moving forward together" which was organised by the United States Institute of Peace (USIP) on August 3.

Chien said he hoped that the US authorities will continue to cooperate more closely with Vietnam in dealing with war aftermaths.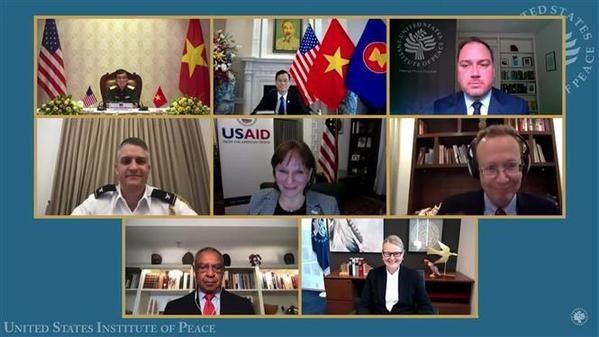 The deputy minister emphasised the need for the two sides to identify new and breakthrough solutions to promote more effective and faster collaboration activities in overcoming the consequences of landmines and toxic chemicals/dioxins.

In the immediate future, it is necessary to continue to mobilise resources to accelerate the detoxification process of the entire Bien Hoa airport area and seek more appropriate methods to provide medical care and employment for victims of Agent Orange/dioxin in Vietnam, he said.

The clearance of unexploded bombs and mines in Vietnam should be sped up, to clean up from 500,000-700,000 ha per year.

Chien affirmed that he would direct Vietnamese relevant agencies to closely coordinate with each other and with US partners to effectively implement important cooperation contents between Vietnam and the US.

Speaking at the webinar, Lise Grande, president of the United States Institute of Peace said the event was an opportunity for US and Vietnamese agencies, managers, scientists and experts to identify future orientations to promote cooperation between the two sides in overcoming the consequences of landmines and toxic chemicals, along with collaboration in searching for soldiers missing in action in Vietnam.

US Senator Patrick Leahy appreciated the cooperation between the two countries in the past time.

He said during the visit to Vietnam by US Secretary of Defense Lloyd Austin on July 29, the two sides signed a Memorandum of Understanding on gathering and searching for remains of Vietnamese soldiers missing in the war, adding that it opened up a new chapter in the cooperation in overcoming war aftermaths between the two countries./.