He made the statement at a debate in the framework of a webinar on "Overcoming the consequences of war, moving forward together" which was organised by the United States Institute of Peace (USIP) on August 3.
The ambassador said he hopes the US Government, Congress, veterans' organisations, the press, and the American people will continue to pay attention to and support of cooperation in settling war aftermaths in Viet Nam in general and searching for Vietnamese soldiers missing in action (VMIA) in particular.
He suggested relevant US agencies, especially the US Agency for International Development (USAID), spend more resources on building a high-tech centre in the country to assist with the identification of VMIAs.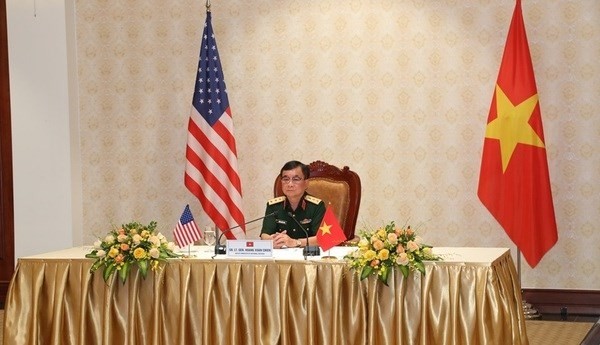 The ambassador took the occasion to thank the US Government for providing vaccines to Viet Nam. He affirmed that the US' provision of vaccines, medical equipment, and medicines to help Viet Nam combat the COVID-19 pandemic demonstrates the friendship and comprehensive partnership between the two countries.
Addressing the webinar, US Senator Patrick Leahy said during the visit to Viet Nam by US Secretary of Defense Lloyd Austin on July 29, the two sides signed a Memorandum of Understanding on gathering and searching for remains of Vietnamese soldiers missing in the war, adding that it opened up a new chapter in the cooperation in overcoming war aftermaths between the two countries.
He said the VMIA project, launched by the USIP at the start of the webinar, reflects the US's wish to respond to the good will of the Vietnamese Government and people in helping the US search for its missing in action soldiers over the past more than 40 years.
During a talk to the press within the framework of the event, Ambassador Ngoc said there are three factors for the two sides to make substantive progress in cooperation in overcoming the consequences of war.
The first factor is the consistent, long-term, and effective cooperation of the Government and people of Viet Nam to help the US search for the remains of American soldiers missing during the war in Viet Nam.
The second one is the development of the relationship between Viet Nam and the US over the past 26 years since the normalisation of relations. And the last one is the efforts of Senators Patrick Leahy, Tim Riser, and American and Vietnamese officials and friends.
Tim Rieser said the webinar contributed to promoting the search for Vietnamese soldiers missing in the war, and also to raising the awareness and interest of people in the US, especially the young generation, about their responsibility to contribute to dealing with the consequences of war and further promoting the comprehensive partnership between the two countries.