Vietnam's agricultural sector is focusing on solving difficulties to earn over 4 billion USD from shrimp exports in 2021.

Deputy Minister of Agriculture and Rural Development Phung Duc Tien said that the ministry will work with the Ministry of Natural Resources and Environment on land procedures as a legal basis for granting farming area codes and ensuring traceability.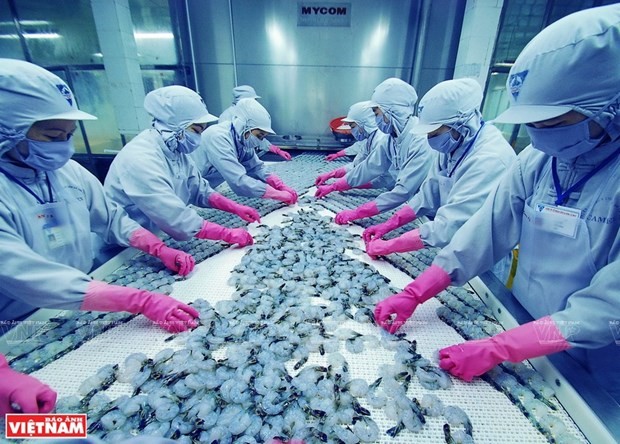 Biosecurity is an important requirement of the World Organisation for Animal Health (OIE) to be able to export whole shrimps, Tien said, adding that the ministry will discuss with localities to find radical solutions to ensure biosecurity.

Localities with shrimp farms should actively strengthen information, dissemination and transfer of science and technology to replicate shrimp farming models using probiotics and high technology as well as effective production linkage models to help farmers and businesses reduce damage and take initiative in production.

The ministry will also coordinate with relevant parties to seek solutions to addressing difficulties related to credit.
According to the Vietnam Association of Seafood Exporters and Producers (VASEP), Vietnam's shrimp export revenue in June hit nearly 402 million USD, bringing the six-month figure to 1.7 billion USD, up 13 percent year-on-year.

Specifically, the country's shrimp exports to the US grew by 45 percent monthly; Japan up 17 percent; the Republic of Korea, 10 percent; and several European nations, 15-60 percent.

Though the US accounts for 30 percent of the world's shrimp import turnover and 22 percent of Vietnam's shrimp exports, Vietnamese shrimp products secured only 8.5 percent of the US market share, behind India, Indonesia and Ecuador./.