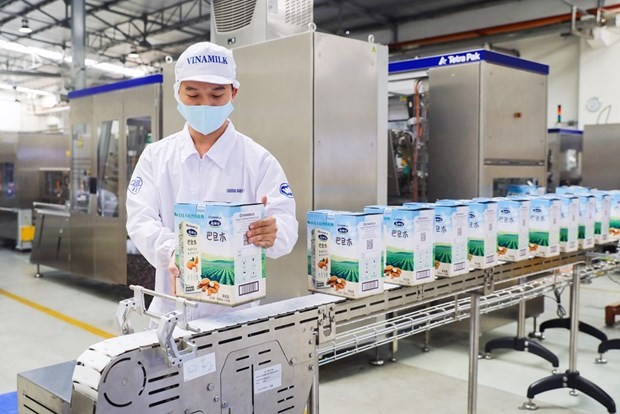 The Vietnam Dairy Products JSC – Vinamilk, the largest dairy company in Vietnam, posted a record high in net revenue of 15.71 trillion VND (682.57 million USD) in the second quarter of 2021, a year-on-year rise of 1.4 percent, according to its financial report.

The figure also rose by 19.2 percent compared to the previous quarter.

The company's after-tax profit exceeded 2.86 trillion VND in the period, a year-on-year decline of 7 percent but up 10 percent against Q1.

It raked in 13.25 trillion VND in net revenue in the domestic market, surging 18.5 percent against the previous quarter.

A report by Kantar WorldPanel showed that Vinamilk maintained its lead as the most-favoured dairy brand in Vietnam in 2020 and ranked first in the sale of fast-moving consumer goods for the fourth consecutive year.

In Q2 2021, the dairy firm launched its Vinamilk Green Farm system in the provinces of Tay Ninh, Quang Ngai and Thanh Hoa.

Its affiliate Moc Chau Milk earned 790 billion VND in net revenue, up 7.6 percent against the same period last year and fulfilling 56 percent of its yearly target.

Vinamilk posted a net revenue of nearly 1.61 trillion VND in exports, a year-on-year increase of 17.2 percent.

The Middle East continues to be its largest export market, along with others of the US and China./.